Spring Valley Dental Crowns, Inlays, & Onlays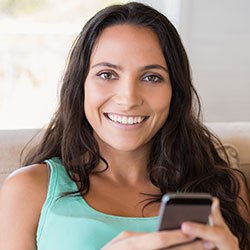 If your tooth has undergone a root canal or is being treated for extensive decay or other damage, you may need a crown, inlay, or onlay. A crown protects a compromised tooth from further problems by fitting snugly and permanently over the existing tooth structure. Sometimes, instead of using a crown, Dr. Hejazi can restore a tooth with a conservative inlay or onlay, which are best described as partial crowns.
Dental crowns are designed to cover the entire tooth, and can be made with a variety of materials, including porcelain, porcelain fused to metal (PFM), zirconia and gold. Dr. Hejazi will often recommend porcelain crowns, because they are both attractive and very durable. After carefully examining your tooth, Dr. Hejazi can determine if a porcelain crown is the best material for your restoration.
Inlays and onlays are appropriate when your tooth needs more than a filling but less than a full crown. What is the difference between an inlay and an onlay? An inlay fits between the cusps of your tooth, while an onlay fits over them. Very similar to crowns, but smaller, inlays and onlays are created from the same materials. Dr. Hejazi can tell you which one will best meet your needs after a full analysis of your mouth.