Professional Dental Hygiene in Spring Valley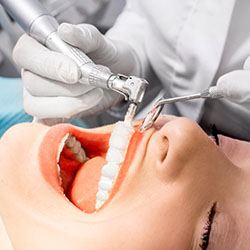 Everyone over the age of four or five should visit the dentist for a professional hygiene appointment twice per year. In addition to thoroughly cleaning your teeth, our gentle hygienist or Dr. Hejazi will also inspect your gums for periodontal disease, the leading cause of tooth loss for American adults. Regular dental checkups and hygiene appointments with the team at Advent Dental are essential to avoiding advanced cases of tooth decay and gum disease. Instead, our skilled team will help you achieve and maintain the optimal level of oral health. If you haven't visited a dentist for a dental checkup in six months or longer, it's time to call our Spring Valley dentist and team to schedule your checkup with the Advent Dental team today. We look forward to helping you maintain your healthiest smiles for life.
What to Expect During Your Professional Teeth Cleaning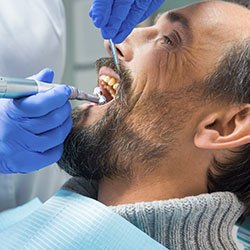 During your dental hygiene appointment, we'll capture diagnostic images to give us a better look at your teeth and oral structures. Then, we'll carefully remove plaque and tartar buildup from the hardest to access parts of teeth. Even patients who are very careful with their at-home hygiene routines may not be able to completely remove all the plaque and tartar from their teeth. In fact, teeth have numerous small pits and grooves that even a single toothbrush bristle can't access to remove the plaque. Additionally, these in-depth cleanings give us the opportunity to monitor for early warning signs of many oral health concerns including tooth decay, gum disease, temporomandibular joint (TMJ) dysfunction, teeth grinding and clenching, and oral cancer.
Benefits of Professional Teeth Cleanings
By visiting our team for regular professional teeth cleanings, you receive a variety of benefits, including:
Reduced risk for tooth decay
Earlier diagnosis for gum disease and other oral health concerns
Your hygienist is your partner in maintaining optimal oral health
Look and feel your best
How Your Hygienist Helps Keep Your Smile Healthy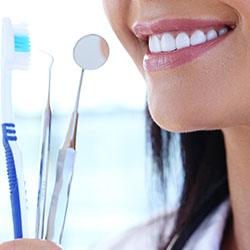 Hygienists and dentists are specially trained to detect, deter, and treat gum disease as well as other oral health concerns. We always prefer to help you maintain optimal oral health so that you never have to worry about treatments for gum disease and other dental health concerns. However, if you develop periodontal problems, we're here to help you. If we find cause for concern, we may recommend that you change your oral healthcare routine or the products you use at home, and our hygienists are skilled in providing guidance to help you improve your at-home hygiene routine. For patients who are suffering from mild gum disease, gingivitis, our skilled hygienists may recommend you visit us more often for professional cleanings. Patients with more advanced gum disease, periodontitis, we may suggest a deep cleaning, which involves:
Scaling to remove tartar and calculus at and below the gum line
A chlorhexidine oral rinse to reduce the numbers of bacteria
PerioProtect a non-surgical antibiotic and oxidant tray delivery system to continue to reduce the amounts of oral bacteria outside the office
Localized Arestin antibiotic treatment or an oral doxycycline regimen may be used before the PerioProtect regimen or in conjunction with this treatment