Teeth Whitening Brightens Spring Valley Smiles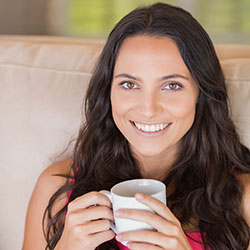 Do you ever look at your smile in a mirror and notice your teeth looking dingy or yellowed? You may have tried a whitening system before, but found over-the-counter methods lacking in potency. If these scenarios describe your situation, you could benefit from powerful in-office Zoom! Whitening or professional at-home whitening services available from Advent Dental's Las Vegas general dentistry practice.
Both systems are safe and effective, so it's up to you and Dr. Hejazi to decide whether in-office or home whitening is right for you. These comfortable whitening procedures can provide the dazzlingly bright smile you've always wanted without the costs of veneers. Zoom! whitening delivers results in just one visit to our Las Vegas office. Custom home whitening kits can provide a brighter smile in the comfort and privacy of your home.
Zoom! Whitening
This popular bleaching method consists of a specially formulated pH-balanced hydrogen peroxide gel and low-heat light that activates the molecules in the gel. During treatment, the Zoom! gel will seep into the enamel, removing stubborn stains and discolorations. The whole visit takes less than two hours, and you will leave with a dramatically whiter smile!
At-Home Whitening
If you'd prefer to whiten teeth at home instead of coming in for a dental appointment, we can accommodate you with a custom bleaching tray and professional-strength whitening solution. We will provide you with specific instructions unique to your situation, but in general, about one hour per day for 10 days will produce a significantly brighter smile.
Teeth whitening is one of the most conservative, affordable ways to obtain a smile makeover. Don't live with dingy, stained teeth any longer. Call Advent Dental for your teeth whitening appointment, and get ready to show off your beautiful smile!