Oral Sedation Cures Anxiety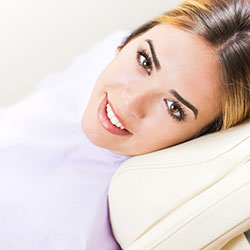 When patients are especially anxious or need complex procedures performed in as few appointments as possible, Dr. Hejazi may recommend sedation dentistry. With oral sedatives, we're able to provide a completely relaxing dental experience for patients with diverse needs.
If Dr. Hejazi determines that oral sedation is right for you, he'll prescribe a safe and effective sedative medication that you'll take before your scheduled appointment. Because the pills will take effect very soon, you will need to arrange for a friend or family member to drive you to and from your dental office. By the time you arrive, you'll be totally at ease. Imagine having all your general or restorative dental work performed while you stay comfortable, and without fear!
If you have avoided dental visits because of fear or discomfort, talk to Dr. Hejazi about comfortable sedation dentistry. There's no need to dread dentistry at our Las Vegas office!