Invisible Braces Straighten Spring Valley Smile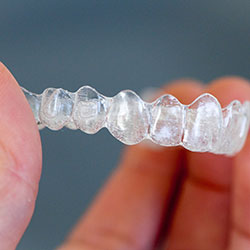 Dr. Hejazi treats many adult patients who would like the benefits of a straighter smile, but who shy away from traditional metal orthodontia. With ClearCorrect clear braces, he can provide them with a modern and unobtrusive solution to crooked, unevenly spaced teeth. ClearCorrect offers high quality treatment that is customized to each patient's unique needs.
These comfortable acrylic aligner trays fit snugly over teeth, exerting gentle pressure that gradually closes gaps and brings teeth into proper alignment. This flexible treatment is friendly to your busy family or professional lifestyle. Simply remove your aligners to eat a meal, brush your teeth, or attend an extra special occasion. Afterwards, just reinsert them to continue straightening your smile. Remember that the more consistently you wear the aligners, the faster your treatment can be concluded. Plus, since ClearCorrect braces are nearly invisible, very few people will notice that you're wearing them
At your ClearCorrect visit, Dr. Hejazi will take detailed impressions of your teeth. A specialized dental lab will then create a series of custom aligners fabricated specifically for your smile. Each pair of aligners will be prescribed for about two weeks, and then you'll move on to the next set. Dr. Hejazi will periodically evaluate your progress. With ClearCorrect clear braces, treatment times are shorter than traditional metal braces, and typically range from about 6 to 18 months. Your ideal smile could be closer than you ever imagined!