Spring Valley General Dentist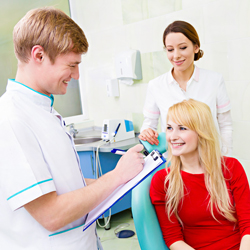 Keeping your smile whole and healthy for life is our top priority at Advent Dental. Our Spring Valley dentist and team are your dedicated partners in preserving your healthy, natural smile for life. If you aren't already visiting our office twice a year for dental checkups, we hope that you will consider taking this step toward improving your oral health and hygiene.
The Importance of Preventive Dental Care
In the early 1900s, dental care was just evolving into the profession it is today. As the US entered WWI, a startling discovery was made. Many of the soldiers who were deemed medically unfit to enter the armed forces had oral health issues. Poor oral health was declared an epidemic, and a team of dentists was called upon to provide a solution. What they came up with was prevention appointments. These dentists pointed out that the majority of people only visited the dentist when their oral health condition was too painful to deal with. Instead, these dentists recommended patients visit two times each year for preventive maintenance. This solution to the US oral health epidemic worked and it stuck. Today, the American Dental Association still recommends patients visit a dentist two times a year for preventive appointments to avoid advanced oral health concerns. The majority of dental problems will not clear up on their own, but if patients visit their dentist every six months, new oral health concerns don't usually have time to reach advanced stages. That means patients receive conservative care and retain healthier smiles.
Dental Checkups
This is the backbone of preventive care. During these six month checkup appointments, we evaluate patients' smiles for warning signs of common oral health concerns like tooth decay, gum disease, TMJ dysfunction, bruxism, and oral cancer. We also take time to review any oral health concerns we discover and create a treatment plan that fits your needs, budget, and schedule.
Learn more about Dental Checkups
Professional Hygiene
Even the most thorough at-home hygiene routine may fall short of removing all the plaque buildup on teeth. In fact, your teeth have tiny pits and crevices that even a single toothbrush bristle won't penetrate. Your professional six month teeth cleanings ensure there's not hidden plaque or tartar damaging your smile.
Learn more about Professional Hygiene
Oral Cancer Screening
During every dental checkup, we will conduct a thorough oral cancer screening. A large number of oral cancer cases are diagnosed in the earliest stages by a dentist. We look for the common warning signs like hard lumps, soft tissue with a different texture than surrounding tissue, and discolored soft tissue. You should let us know if you've experienced any swelling, discomfort, or chronic cough or hoarse throat.
Learn more about Oral Cancer Screening
Gum Disease Therapy
If we determine you're suffering from the early form of gum disease, gingivitis, we will likely recommend more frequent professional teeth cleanings and improved at-home hygiene. In most cases, this will improve your health. For patients whose gum disease has advanced to the more serious stage, called periodontitis, we will need to provide more advanced therapies.
Learn more about Gum Disease Therapy
Clear Braces
We are happy to offer ClearCorrect clear braces. This alignment tray orthodontic system gently shifts teeth into their ideal position over the course of about eight to eighteen months. Unlike traditional bracket and wire braces, this subtle solution is hardly noticed by the untrained observer, and it allows you to continue your regular daily hygiene routine and stick to your usual diet.