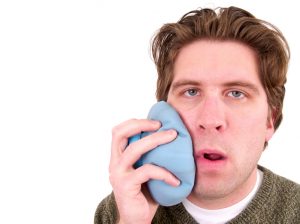 Like any other kind of emergency, dental emergencies can sneak up on you. If you or a member of your family in Spring Valley, Las Vegas, or other nearby communities experience a dental emergency, you can call the caring team at Advent Dental for all of your emergency dentistry needs. We offer same day emergency appointments whenever possible, and we'll always walk you through first aid and pain management over the phone.

When to Call an Emergency Dentist
If you believe your oral health situation requires urgent treatment, you're probably right. You know better than anyone else what your dental situation is and whether or not you need treatment right away. Some of the dental emergencies we see most often include:
Knocked out teeth or dental restorations
Protruding or partially knocked out teeth
Broken teeth or dental restorations
Severe toothache or dental sensitivity
Infection or inflammation in the oral soft tissues
Soft tissue lacerations
Caring for Your Smile at Home
If you are in the midst of a dental emergency, our team will be happy to walk you through first aid over the phone. Some of the basic steps you can take include:
Clean the damaged area using cool water, so you can see the damage clearly
Use gentle pressure or cold compresses to slow bleeding
Use ice packs to prevent swelling and inflammation and relieve pain
Take over the counter pain relievers as necessary, but don't place aspirin directly onto the damaged tooth
Preventing Emergencies
You won't always be able to avoid dental emergencies, but there are some steps you can take to reduce your risk for an emergency, including:
Keep up your two times a day teeth brushing and daily flossing
Visit Advent Dental twice a year for regular checkups
Use mouthguards during athletic events and to protect teeth during nighttime teeth grinding and clenching
Avoid habits like using teeth to open packages or chewing on ice and fingernails
Meet the Advent Dental Team
At the Las Vegas dental office of M. Maxwell Hejazi, DMD, we are dedicated to helping patients whenever we can. We will do our utmost to fit patients in on the same day they call. It's important to get started repairing dental damage right away to ensure we're able to preserve healthy tooth structure and keep you free from pain and stress. Whatever your dental emergency situation, you should call our office right away. We'll fit you in at Advent Dental as soon as possible and get to work repairing your smile right away.