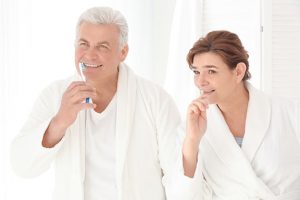 The short answer – very bad. Many patients understand that tooth brushing is important to maintain oral health, but they don't necessarily know how important it is to brush before going to bed. During your regular dental checkups and teeth cleanings, a dentist or hygienist can help you make the most of your at-home dental care plan. In this post, we'll discuss the importance of maintaining tooth brushing and flossing routines, especially before you get some shut eye. You may be fast asleep, but oral bacteria are hard at work, creating plaque that can damage your teeth and gums.

Oral Bacteria & Plaque
In order to understand the necessity to brush before going to sleep, you need to better understand your mouth's unique environment. Everyone naturally has thousands of oral bacteria that aid in the digestion of foods. Unfortunately, these bacteria are living organisms, so while they help break down nutrients, they also produce waste. This sticky, acidic byproduct of bacteria is typically referred to as plaque. When plaque sits on teeth for several hours, it begins to calcify hardening into a crystalized substance referred to as tartar or calculus. Even the best oral hygiene routine can't remove calculus. You need a professional teeth cleaning. When you go to sleep without brushing, the plaque buildup in your mouth has time to harden into tartar that you won't be able to remove. This tartar can lead to tooth decay or gum disease.
Brushing Tips
In order to make the most of your nighttime tooth brushing routine, you should keep the following tips in mind:
Brush for at least two minutes at a time at least twice a day
Use a soft bristled toothbrush and brush gently to avoid damaging soft tissue and creating excessive enamel wear
Brush systematically not randomly to ensure you brush every tooth
Meet Dr. Hejazi
Experienced Las Vegas dentist, Dr. M. Maxwell Hejazi, and his team of dedicated dentistry professionals at Advent Dental are happy to offer preventive, restorative, and cosmetic dentistry services to keep you smiling. From regular dental exams and teeth cleanings to the most advanced dental treatments, we're here to help patients get the healthy, beautiful smiles they deserve. The best way to keep your smile healthy? Visit us every six months for dental exams and keep up with your at-home hygiene routine. If you want to find out more or schedule an appointment, call Dr. Hejazi and the Advent Dental team to schedule your consultation appointment today. We look forward to hearing from you soon.